Recién nacidos hijos de madres adictas. Formas de presentación: no todo se trata de síndrome de abstinencia
Newborns born to mothers with substance abuse. Forms of presentation: not everything is about withdrawal syndrome
Palabras clave:
madre adicta, hijos de madre toxicómana, síndrome de abstinencia, droga en leche materna
Resumen
El consumo de drogas ilegales por la mujer gestante puede ocasionar morbilidades potencialmente graves en el feto y recién nacido. Las manifestaciones en el niño pueden ser diversas, por lo que es necesario un alto índice de sospecha a fin de realizar el diagnóstico y tratamiento apropiados.
Se presentan tres casos de recién nacidos, hijos de madres adictas, con variadas expresiones clínicas.
Correspondencia: Gloria Celeste Samudio Domínguez Correo: gsamudio.samudio@gmail.com
Conflicto de interés: Los autores declaran no tener ningún conflicto de interés.
Recibido: 14/09/2021 Aceptado: 25/02/2022
DOI: https://doi.org/10.31698/ped.49012022008
Licencia 4.0
Citas
Bailey NA, Diaz-Barbosa M. Effect of Maternal Substance Abuse on the Fetus, Neonate, and Child. Pediatr Rev. 2018; 39(11):550-559. doi: 10.1542/pir.2017-0201.
SENAD. Informe Nacional: situación de drogas en Paraguay 2017 [Internet]. SENAD; 2018 [citado 06 ma 2022]. Disponible en: https://www.issup.net/files/2019-06/Informe%20Nacional%20Situaci%C3%B3n%20de%20Drogas%20en%20Paraguay%202017.pdf
Hudak ML, Tan RC; Committee on Drugs; Committee on Fetus and Newborn; American Academy of Pediatrics. Neonatal drug withdrawal. Pediatrics. 2012; 129(2):e540-60. doi: 10.1542/peds.2011-3212
Raffaeli G, Cavallaro G, Allegaert K, Wildschut ED, Fumagalli M, Agosti M, et al. Neonatal Abstinence Syndrome: Update on Diagnostic and Therapeutic Strategies. Pharmacotherapy. 2017; 37(7):814-823. doi: 10.1002/phar.1954
Academia Española de Pediatría. Protocolos Diagnóstico Terapeúticos de la AEP: Neonatología Abuso de tóxicos y gestación [Internet]. A. Mur Sierra, MA. Lopez-Vilchez, A. Paya Panadès (editores). Barcelona: Hospital Universitario del Mar: Universidad Autónoma; 2008 [citado 20 ene 2022]. p. 146-158.Disponible en: https://www.aeped.es/sites/default/files/documentos/17_1.pdf
Berra A, Kamo S, Mohnot S, Rosselot J, Suire A, Stafford J, et al. The Association Between Antenatal Maternal Self-reported Substance Use, Maternal Characteristics, and Obstetrical Variables. J Addict Med. 2019; 13(6):464-469. doi: 10.1097/ADM.0000000000000521
Gutiérrez-Padilla AJ, Padilla-Muñoz H, Gutiérrez-González H, Barrera-de León JC, Aguirre-Jáuregui OM, Martínez-Verónica R, et al. Evolución clínica de hijos de madres con adicciones internados en una unidad de terapia intensiva neonatal del Occidente de México Ginecol Obstet Mex. 2014; 82:441-447.
Bell SG. Drug Screening in Neonates. Neonatal Netw. 2016; 35(5):321-6. doi: 10.1891/0730-0832.35.5.321
Guillén Godoy MA, Parrales Yagual JR, Quinteros Vera JV. Complicaciones Perinatales por el consumo de Drogas durante la Gestación [Internet]. Tesis de Licenciatura en Enfermeria. Ecuador: Facultad de Ciencias de la Salud, Universidad Estatal de Milagro; 2018 [Citado 05 feb 2022]. Disponible en: http://repositorio.unemi.edu.ec/handle/123456789/4205
Stover MW, Davis JM. Opioids in pregnancy and neonatal abstinence syndrome. Semin Perinatol. 2015; 39(7):561-5. doi: 10.1053/j.semperi.2015.08.013
Schreiter J, Vogel M, Kiep H, Thome U, Bläser A, Nickel P, et al. Die kognitive, sprachliche und motorische Entwicklung pränatal methamphetamin- und opioid-exponierter Kinder. Klin Padiatr. 2019; 231(5):262-268. doi: 10.1055/a-0981-6322
Piñuñuri R, Mardones C, Valenzuela C, Estay P, Llanos M. Exposition to drugs of abuse in pregnancy and breastfed babies growth in CONIN Valparaíso, Chile. Nutr Hosp. 2015; 31(5):2070-8. doi: 10.3305/nh.2015.31.5.8636
Joya X, Pacifici R, Salat-Batlle J, Garcia-Algar O, Pichini S. Maternal and neonatal hair and breast milk in the assessment of perinatal exposure to drugs of abuse. Bioanalysis. 2015; 7(10):1273-97. doi: 10.4155/bio.15.60
Modernel Xavier D, Calcagno Gomes G, Portella Ribeiro J, Soares Mota M, Quadros Alvarez S. Use of crack in pregnancy: repercussions for the newborn. Invest Educ Enferm. 2017 Oct;35(3):X. doi: 10.17533/udea.iee.v35n3a02. PMID: 29767906
McGovern R, Gilvarry E, Addison M, Alderson H, Geijer-Simpson E, Lingam R, et al. The Association Between Adverse Child Health, Psychological, Educational and Social Outcomes, and Nondependent Parental Substance: A Rapid Evidence Assessment. Trauma Violence Abuse. 2020; 21(3):470-483. doi: 10.1177/1524838018772850
Dos Santos JF, de Melo Bastos Cavalcante C, Barbosa FT, Gitaí DLG, Duzzioni M, Tilelli CQ, et al. Maternal, fetal and neonatal consequences associated with the use of crack cocaine during the gestational period: a systematic review and meta-analysis. Arch Gynecol Obstet. 2018; 298(3):487-503. doi: 10.1007/s00404-018-4833-2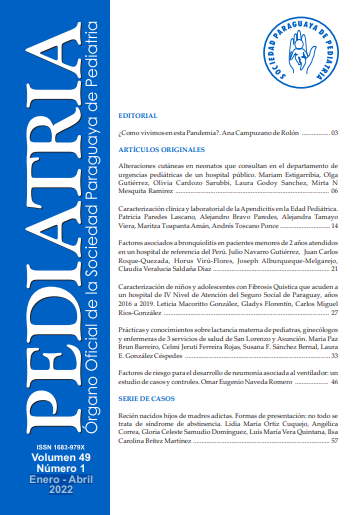 Descargas
Cómo citar
Ortiz Cuquejo, L. M. ., Correa Fretes , A. L. ., Samudio Domínguez, G. C. ., Vera Quintana, L. M., & Brítez Martínez , I. C. . (2022). Recién nacidos hijos de madres adictas. Formas de presentación: no todo se trata de síndrome de abstinencia: Newborns born to mothers with substance abuse. Forms of presentation: not everything is about withdrawal syndrome. Pediatría (Asunción), 49(1), 57-61. https://doi.org/10.31698/ped.49012022008
Licencia
Derechos de autor 2022 Pediatría (Asunción)
Esta obra está bajo una licencia internacional Creative Commons Atribución 4.0.
Todo el contenido de este sitio está bajo una Licencia de Atribución Creative Commons.