Factores asociados a bronquiolitis en pacientes menores de 2 años atendidos en un hospital de referencia del Perú
Factors associated with bronchiolitis in patients under 2 years of age treated at a reference hospital in Peru
Palabras clave:
Estudios de casos y controles, bienestar del lactante, bronquiolitis, recién nacido prematuro, madres
Resumen
Introducción: La bronquiolitis se considera una patología respiratoria de etiología viral, frecuente a nivel de infantes. Existen diversos determinantes que contribuyen a su desarrollo dentro de esta población. El conocer dichos factores permitirá ejecutar medidas preventivas, así como disminuir el número de casos. Objetivo: Determinar los factores asociados a bronquiolitis en pacientes menores de 2 años atendidos en un hospital de referencia del Perú. Materiales y Métodos: se realizó un diseño de tipo casos y controles no emparejado, con una muestra representativa, con un tamaño muestral de 174 casos y 174 controles por muestreo probabilístico aleatorio simple, se realizó un modelo de regresión logística para los factores asociados al lactante y la madre para el cálculo del Odds Ratio e intervalo de confianza al 95% respecto a la variable dependiente bronquiolitis aguda. Resultados: se reportó una asociación para la bronquiolitis aguda con las variables prematuridad 3.02 (IC95% 1.54 – 5.92), bajo peso al nacer 1.85 (IC95% 1.07 – 3.20), género femenino 2.89 (IC95% 1.72 – 4.86), madre adolescente 3.82 (IC95% 2.13 – 6.86) y madre sin grado de instrucción 3.02 (IC95% 1.83 – 11.87). Conclusión: los factores de prematuridad, bajo peso al nacer y género femenino del lactante y el grado de instrucción y condición adolescente de la madre se asocian al bronquiolitis aguda en pacientes menores de 2 años.
Correspondencia: Juan Carlos Roque-Quezada Correo: juan.roque@upsjb.edu.pe
Conflictos de interés: Los autores declaran no presentar ningún tipo de conflictos de intereses.
Financiamiento: El presente manuscrito ha sido autofinanciado por los autores
Recibido:  12/12/2021                 Aceptado: 21/02/2022
Licencia 4.0
Citas
Smyth RL, Openshaw PJ. Bronchiolitis. Lancet. 2006; 368(9532):312-22. doi: 10.1016/S0140-6736(06)69077-6
Florin TA, Plint AC, Zorc JJ. Viral bronchiolitis. Lancet. 2017; 389(10065):211-224. doi: 10.1016/S0140-6736(16)30951-5
Boyce TG. More on Viral Bronchiolitis in Children. N Engl J Med. 2016; 375(12):1199-200. doi: 10.1056/NEJMc1607283
Friedman JN, Rieder MJ, Walton JM; Canadian Paediatric Society, Acute Care Committee, Drug Therapy and Hazardous Substances Committee. Bronchiolitis: Recommendations for diagnosis, monitoring and management of children one to 24 months of age. Paediatr Child Health. 2014; 19(9):485-98. doi: 10.1093/pch/19.9.485
Teshome G, Gattu R, Brown R. Acute bronchiolitis. Pediatr Clin North Am. 2013; 60(5):1019-34. doi: 10.1016/j.pcl.2013.06.005
American Academy of Pediatrics Subcommittee on Diagnosis and Management of Bronchiolitis. Diagnosis and management of bronchiolitis. Pediatrics. 2006; 118(4):1774-93. doi: 10.1542/peds.2006-2223
Chirinos-Saire Y, Reyna-García R, Aguilar-Huauya E, Santillán-Salas C. Virus respiratorios y características clínico-epidemiológicas en los episodios de infección respiratoria aguda. Rev Peru Med Exp Salud Publica [Internet]. 2021 [citado 30 ene 2022] 26; 38(1):101-7. Available from: https://scielosp.org/pdf/rpmesp/2021.v38n1/101-107/es
Mezarina-Esquivel H, Bada-Mancilla C, Castañeda-Campozano R. Identificación viral en pacientes hospitalizados por infecciones respiratorias bajas, en menores de 5 años, en el hospital de emergencias pediatricas. Lima - Perú, 2014. Rev Peru Investig Matern Perinat. 2017; 15;6(2):9-12. doi: 10.33421/inmp.201790
del Valle Mendoza J, Cornejo-Tapia A, Weilg P, Verne E, Nazario-Fuertes R, Ugarte C, et al. Incidence of respiratory viruses in peruvian children with acute respiratory infections. J Med Virol. 2015; 87(6):917–24. doi: 10.1002/jmv.24159
Kumar P, Medigeshi GR, Mishra VS, Islam M, Randev S, Mukherjee A, et al. Etiology of Acute Respiratory Infections in Infants: A Prospective Birth Cohort Study. Pediatr Infect Dis J. 2017; 36(1):25-30. doi: 10.1097/INF.0000000000001359
Ge X, Han Z, Chen H, Cheng J, Gao M, Sun H. Characterization of acute respiratory infections among 340 infants in Wuxi, Jiangsu Province. Ann Transl Med. Ann Transl Med. 2015; 3(18):264. doi: 10.3978/j.issn.2305-5839.2015.10.23
Wong-Chew RM, Espinoza MA, Taboada B, Aponte FE, Arias-Ortiz MA, Monge-Martínez J, et al. Prevalence of respiratory virus in symptomatic children in private physician office settings in five communities of the state of Veracruz, Mexico BMC Res Notes. 2015; 8:261. doi: 10.1186/s13104-015-1239-0
Ayuso Raya C, Castillo Serrano A, Escobar Rabadán F, Plaza Almeida J. Bronquiolitis en una Zona de Salud urbana: Factores demográficos y medioambientales. Rev Clínica Med Fam [Internet]. 2010 [citado 03 mar 2022]; 3(2):71–7. Available from: http://scielo.isciii.es/scielo.php?script=sci_arttext&pid=S1699-695X2010000200003&lng=en&nrm=iso&tlng=en
Coronel-Carvajal C. Factores asociados al desarrollo de la bronquiolitis. Rev Arch Médico Camagüey. 2019;23(5):639-47.
Esquivel RR. Factores de riesgo para el desarrollo de bronquiolitis severa en niños menores de 2 años admitidos al Hospital del Niño, Panamá de diciembre de 2013 a abril de 2014. Pediátr Panamá. 2016; 45(3):26-32.
Nenna R, Cutrera R, Frassanito A, Alessandroni C, Nicolai A, Cangiano G, et al. Modifiable risk factors associated with bronchiolitis. Ther Adv Respir Dis. 2017; 11(10):393-401. doi: 10.1177/1753465817725722
Atay Ö, Pekcan S, Göktürk B, Özdemir M. Risk factors and clinical determinants in bronchiolitis. Turkish Thorac J [Internet]. 2019; 21(3):156–62. Available from: https://turkthoracj.org/en/risk-factors-and-clinical-determinants-in-bronchiolitis-131085.
Aliaga-Guillen E, Serpa-Carlos KL. Factores de riesgo asociados a bronquiolitis en un servicio de emergencia pediátrica. Rev Médica Panacea. 2019; 3(2):43–6. doi: 10.35563/rmp.v3i2.117
Rodríguez L, Cervantes E, Ortiz R. Malnutrition and gastrointestinal and respiratory infections in children: a public health problem. Int J Environ Res Public Health. 2011; 8(4):1174-205. doi: 10.3390/ijerph8041174
Lanari M, Prinelli F, Adorni F, Di Santo S, Vandini S, Silvestri M, et al. Risk factors for bronchiolitis hospitalization during the first year of life in a multicenter Italian birth cohort. Ital J Pediatr. 2015; 41:40. doi: 10.1186/s13052-015-0149-z
Fauroux B, Hascoët J-M, Jarreau P-H, Magny J-F, Rozé J-C, Saliba E, et al. Risk factors for bronchiolitis hospitalization in infants: A French nationwide retrospective cohort study over four consecutive seasons (2009-2013). PLoS One. 2020; 15(3):e0229766. doi: 10.1371/journal.pone.0229766
Robledo-Aceves M, Moreno-Peregrina MDJ, Velarde-Rivera F, Ascencio-Esparza E, Preciado-Figueroa FM, Caniza MA, et al. Risk factors for severe bronchiolitis caused by respiratory virus infections among Mexican children in an emergency department. Medicine (Baltimore). 2018; 97(9):e0057. doi: 10.1097/MD.0000000000010057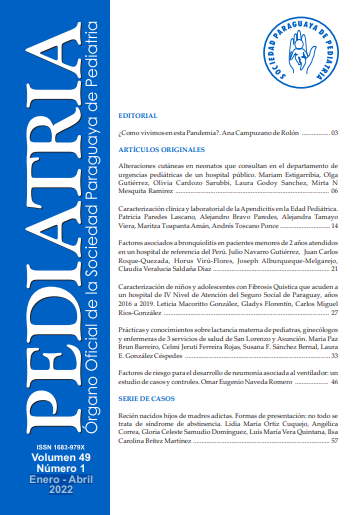 Descargas
Cómo citar
Navarro Gutiérrez, J. ., Roque-Quezada, J. C. ., Virú-Flores, H. ., Alburqueque-Melgarejo, J., & Saldaña Diaz, C. V. . (2022). Factores asociados a bronquiolitis en pacientes menores de 2 años atendidos en un hospital de referencia del Perú: Factors associated with bronchiolitis in patients under 2 years of age treated at a reference hospital in Peru. Pediatría (Asunción), 49(1), 21-26. https://doi.org/10.31698/ped.49012022004
Sección
Artículos Originales
Licencia
Derechos de autor 2022 Pediatría (Asunción)
Esta obra está bajo una licencia internacional Creative Commons Atribución 4.0.
Todo el contenido de este sitio está bajo una Licencia de Atribución Creative Commons.