Glomerulonefritis post infecciosa en Pediatría: estudio epidemiológico basado en una población hospitalaria
Palabras clave:
Glomerulonefritis, pediatría, infección, epidemiologia
Resumen
Introducción La glomerulonefritis pos infecciosa (GNAPI)es una patología frecuente en Pediatria. Objetivo: describir la epidemiologia de la GNAPI en un hospital de Referencia. Materiales y Métodos: Estudio observacional descriptivo. Se incluyeron pacientes menores de 16 años diagnóstico de Glomerulonefritis post infecciosa. Se excluyeron pacientes con C3 desconocido, con enfermedad renal previa, con síndrome nefrítico secundario, variables: sociodemográficas, período estacional, tipo de infección precedente, aclaramiento de creatinina, requerimiento de diálisis Los datos fueron analizados mediante el programa SPSS. Resultados: Ingresaron 160 pacientes con predominio del sexo masculino (68,1%) con una relación M/F de 2,2 a 1, Grupo etario más afectado de 6 a 12 años (65%). El 60%de los pacientes provenían del área rural, con padres con estudios primarios y condiciones de hacinamiento La forma clínica más frecuente fue el síndrome nefrítico agudo (97,5%)y la infección precedente más prevalente fue la piodermitis (52%). Se observo alteración de la función renal en 51,25%, edema pulmonar en 40% y encefalopatía hipertensiva en 17%. Ningún paciente falleció. Conclusión: La GNPI afecta más frecuentemente al sexo masculino, a niños que viven en condiciones de hacinamiento y en familias de nivel socioeconómico bajo. Tuvieron buena evolución sin mortalidad.
Conflicto de interés: Los autores declaran no poseer conflicto de interés
Recibido: 17/01/2019 Aceptado: 14/02/2020
Citas
1. Kirsztajn G. Investigação laboratorial das glomerulopatias. In: Diagnostico Laboratorial em Nefrología. São Paulo: Sarvier; 2009. p. 189-197.
2. Bhalla K, Gupta A, Nanda S, Mehra S. Epidemiology and clinical outcomes of acute glomerulonephritis in a teaching hospital in North India. J Family Med Prim Care. 2019; 8(3):934–937.DOI: 10.4103/jfmpc.jfmpc_57_19
3. Kher KK. Acute Glomerular Diseases in Children. The Open Urology & Nephrology Journal [Internet]. 2015 [citado 4 Abr 2018]; 8(3:M4):104-116. Disponible en: https://openurologyandnephrologyjournal.com/VOLUME/8/PAGE/104/FULLTEXT/.
4. Bagga A, Menon S. Acute and rapidly progressive glomerulonephritis. In: Srivastana RN, Bagga A, editores. Pediatric Nephrology. 6 ed. Nueva Delhi: JAYPEE; 2016. p. 128-148.
5. Wong W, Lennon DR, Crone S, Neutze JM, Reed PW. Prospective population-based study on the burden of disease from post-streptococcal glomerulonephritis of hospitalized children in New Zealand: Epidemiology, clinical features and complications. J Paediatr Child Health. 2013; 49(10):850-855.
6. Gebreyesus LG, Aregay AF, Gebrekidan KG, Alemayehu YH. Factors associated with treatment outcome of acute post streptococcal glomerulonephritis among patients less than 18 years in Mekelle City, Public Hospitals, North Ethiopia. BMC Res Notes. 2018; 11(1):693. DOI: 10.1186/s13104-018-3794-7.
7. Halty M, Caggiani M. Síndrome nefrítico agudo. Clínicas Pediátricas del Sur [Internet]. 2007 [citado 14 Abr 2019]; 1(1):40-63. Disponible en: https://www.sup.org.uy/clinicas-del-sur/vol-1/pdf/clinicas%20del%20sur_01_6.pdf
8. Van De Voorde RG. Acute poststreptococcal glomerulonephritis: the most common acute glomerulonephritis. Pediatr Rev. 2015; 36(1):3-12.
9. Bingler MA, Ellis D, Moritz ML. Acute post-streptococcal glomerulonephritis in a 14-month-old boy: why is this uncommon?. Pediatr Nephrol. 2007; 22(3):448-450.
10. Kondapalli CS, Gondi KC, Mohammed F. Correlation of clinical and laboratory parameters of acute glomerulonephritis in children. Int J Contemp Pediatr. 2019; 6(2):1-8.
11. Soria-Barreda N, Guilart-Domínguez M, Guerrero-Pardo C, Mariño MC. Aislamiento del estreptococo beta-hemolítico en niños asintomáticos. MEDISAN [Internet]. 2017 [citado 12 Oct 2019]; 21(1):43-51. Disponible en: http://scielo.sld.cu/scielo.php?script=sci_arttext&pid=S1029-30192017000100006&lng=es
12. Eison TM, Ault BH, Jones DP, Chesney RW, Wyatt RJ. Post-streptococcal acute glomerulonephritis in children: clinical features and pathogenesis. Pediatr Nephrol. 2011; 26(2):165-180. DOI: https://doi.org/10.1007/s00467-010-1554-6
13. Marquardt T. Managing skin infections in Aboriginal and Torres Strait Islander children. Aust Fam Physician. 2014; 43(1):16-19.
14. Garcia-Garcia G, Jha V. Chronic kidney disease in disadvantaged populations. Braz J Med Biol Res. 2015; 48(5):377-381.
15. Tasic V, Polenakovic M. Occurrence of subclinical post-streptococcal glomerulonephritis in family contacts. J Paediatr Child Health. 2003; 39(3):177-9.
16. Dirección General de Estadísticas, Encuestas y Censos. Compendio estadístico ambiental: periodo 2000-2009 [Internet]. Asunción: DGEEC; 2013 [citado 12 Oct 2019]. Disponible en: http://www.dgeec.gov.py/Publicaciones/Biblioteca/compendio%20ambiental%202011/Compendio%20Estadistico%20Ambiental%20.Periodo%202000-2009.pdf
17. May PJ, Bowen AC, Carapetis JR. The inequitable burden of group A streptococcal diseases in Indigenous Australians. Med J Aust. 2016; 205(5):201-3. DOI: https://doi.org/10.5694/mja16.00400
18. Cuningham W, McVernon J, Lydeamore MJ, Andrews RM, Carapetis J, Kearns T. et al. High burden of infectious disease and antibiotic use in early life in Australian Aboriginal communities. Aust N Z J Public Health. 2019; 43(2):149-155. DOI: https://doi.org/10.1111/1753-6405.12876
19. Trivedi M, Pasari A, Chowdhury AR, Kurien AA, Pandey R. The Epidemiology, Clinical Features, and Outcome of Infection-related Glomerulonephritis from East India: A Single Center Experience. Indian J Nephrol. 2017; 27(4):307-312. DOI: https://doi.org/10.4103/ijn.IJN_280_16
20. Vila Cots J, Piqueras Marimbaldoa I, Arias Constantia V, Camacho Díaza JA, Giménez Llorta A, Vila Santandreu, et al. Glomerulonefritis aguda asociada a neumonía: revisión de 6 casos. Anales de Pediatría [Internet]. 2011 [citado 12 Oct 2019]; 74(5):332-335. Disponible en: ttps://www.analesdepediatria.org/es-glomerulonefritis-aguda-asociada-neumonia-revision-articulo-S1695403310005308
21. Alarcón Alacio MT, Penela Vélez de Guevara MT, Ballesteros García MM, García Vao Bel C, Grava Lozano CD. ¿Neumonia y Glomerulonefritis Aguda en la Infancia. ¿Una Asociación infrecuente? Acta Pediatr Esp. 2016; 74(11):239-242.
22. Fernández Maseda MA, Romero Sala FJ. Glomerulonefritis aguda postinfecciosa. Protoc diagn ter pediatr. 2014; 1:303-14.
23. Vijayakumar M. Acute and crescentic glomerulonephritis. Indian J Pediatr. 2002; 69(12):1071-5.
24. Campos Pinto RD, Veloso Moreira V, Nascimento RTL, Oliveira Rocha de Alencar NL, Nakaoka Elias da Silva VY, Bacelar Kashiwabara TG. Glomerulonefrite difusa aguda: Uma revisao da literatura. Braz. J. Surg. Clin. Res. [Internet]. 2013 [citado 25 Mar 2019]; 4(4):57-60. Disponible en: https://www.mastereditora.com.br/download-314
25. Torres Saltarín J. Síndrome Nefrítico. In: Nefrología Básica 2 [Internet]. 2017. [citado 4 Abr 2018]. Disponible en: http://asocolnef.com/wp-content/uploads/2018/03/Cap06.pdf
26. Zepeda CAJ. Interpretación del examen por antiestreptolisinas O. Honduras Pediátrica [Internet]. 1977 [citado 25 Mar 2019]; 6(5):888-890. Disponible en: http://cidbimena.desastres.hn/RHP/pdf/1977/pdf/Vol6-5-1977.pdf
27. Arteaga Bonilla R, Arteaga MR. Uso clínico e interpretación de las pruebas de anticuerpos contra Streptococcus Grupo A: una guía práctica para pediatras y médicos generales. Rev. bol. ped. [Internet]. 2002 [citado 23 Mar 2019]; 41(3):139-140. Disponible en: http://www.scielo.org.bo/scielo.php?script=sci_arttext&pid=S1024-06752002000300007&lng=es
28. Niaudet P. Poststreptococcal glomerulonephritis. In: Stapleton FB, Kim MS, editores UpToDate [Internet] 2018 [citado 17 feb 2019]. Disponible en https://www.uptodate.com/contents/poststreptococcal-glomerulonephritis
29. Noguera-Valverde RA. Encefalopatía hipertensiva secundaria a Glomerulonefritis aguda postestreptocócica. Bol. Med. Hosp. Infant. Mex [Internet]. 2009 [citado 05 Feb 2017]; 66(3):260-264. Disponible en: http://www.scielo.org.mx/scielo.php?script=sci_arttext&pid=S1665-11462009000300007&lng=es
30. Balasubramanian R, Marks SD. Post-infectious glomerulonephritis. Paediatr Int Child Health. 2017; 37(4):240-247.
31. Dagan R, Cleper R, Davidovits M, Sinai-Trieman L, Krause I. Post-Infectious Glomerulonephritis in Pediatric Patients over Two Decades: Severity-Associated Features. Isr Med Assoc J. 2016; 18(6):336-340.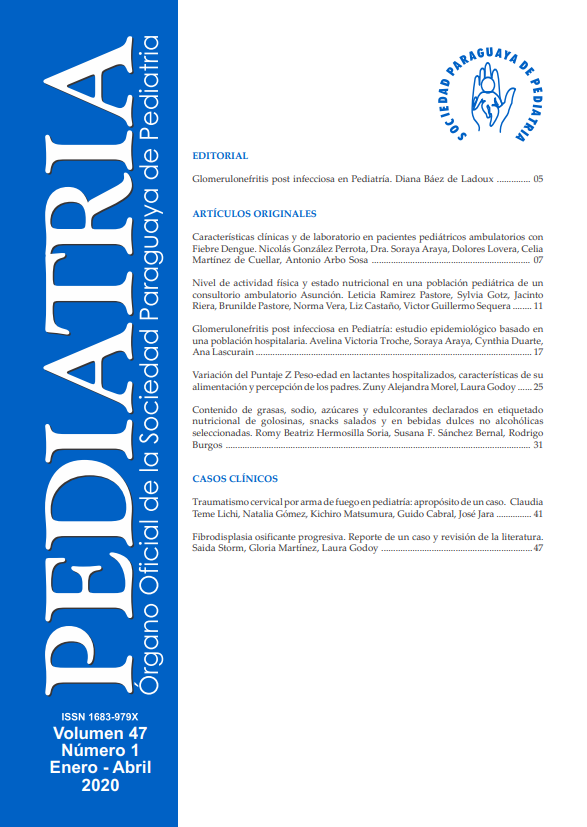 Descargas
Cómo citar
Troche, A. V., Araya, S., Duarte, C., & Lascurain, A. (2020). Glomerulonefritis post infecciosa en Pediatría: estudio epidemiológico basado en una población hospitalaria. Pediatría (Asunción), 47(1), 17 - 23. https://doi.org/10.31698/ped.47012020004
Sección
Artículos Originales