Características clínicas y de laboratorio en pacientes pediátricos ambulatorios con Fiebre Dengue
Palabras clave:
Dengue, Pediatría, atención ambulatoria
Resumen
Introducción: La fiebre dengue (FD) ha representado en nuestro país una de las causas más frecuentes de consulta en la última década.
Objetivos: Describir las características clínicas y de laboratorio de los pacientes con dengue observados en la unidad de atención ambulatoria de un centro de referencia.
Materiales y Métodos: Se incluyeron todos los casos de dengue en pacientes menores de 20 años asistidos en la unidad de consulta ambulatoria del Instituto de Medicina Tropical, en el período entre noviembre de 2015 y marzo 2016. En función a una base estructurada de colección de datos, se analizaron las características demográficas, clínicas y de laboratorio.
Resultados: Se incluyeron 1491 casos de dengue. La edad media fue de 12±5 años, correspondiendo 58 casos (4%) al grupo etario <2 años, 438 (29%) al grupo >2-9 años y 995 (67%) al grupo >9 años (p<0.01). La distribución de sexo fue similar (fem/masc 1.04:1). Presentaron fiebre los 1491 pacientes (100%). La cefalea, mialgias y artralgias se observaron mas frecuentemente en los pacientes >9 años, constatándose en el 79%, 60% y 55% de los casos (p<0,01 comprado con otros grupos etarios). En cambio, el exantema fue más frecuente en los menores de 2 años (36%) (p<0,01 al comparar con los niños mayores de 2 años). Laboratorialmente la frecuencia de leucopenia fue mayor en los mayores de 2 años (72% en el grupo de 2-9 años y 81% en los >9 años) al compáralos con los menores de 2 años (p<0,01). La detección del antígeno no estructural NS1 del dengue se observó en la mayoría de los casos (84%).
Conclusiones: El grupo etario predominante que consulta por dengue es el de los niños >9 años. Se identificaron variables clínicas (exantema más frecuente en lactantes y algias en niños >9 años) y laboratoriales (citopenias poco frecuentes en lactantes) que dependen del grupo etario. La sensibilidad de la antigenemia ha sido excelente y similar en los grupos etarios.
Conflicto de interés: Los autores declaran no poseer conflicto de interés
Recibido: 22/11/2019 Aceptado: 5/02/2020
Citas
1. Halstead SB. Dengue Virus–Mosquito Interactions. Annu Rev Entomol. 2008; 53:273-291.
2. Waman VP, Kolekar P, Ramtirthkar MR, Kale MM, Kulkarni-Kale U. Analysis of genotype diversity and evolution of Dengue virus serotype 2 using complete genomes. Peer J. 2016; 4:e2326. DOI: 10.7717/peerj.7852.
3. Yamashita A, Sasaki T, Kurosu T, Yasunaga T, Ikuta K. Origin and distribution of divergent dengue virus: Novel database construction and phylogenetic analyses. Future Virol. 2013; 8:1061-1083.
4. World Health Organization. Dengue: Guidelines for Diagnosis, Treatment, Prevention and Control. New ed. Geneva. Switzerland: World Health Organization; 2009.
5. Halstead SB. Dengue. Lancet. 2007;370(9599):1644-1652.
6. Simmons CP, Farrar JJ, Nguyen van VC, Wills B. Dengue. N Engl J Med. 2012; 366:1423-1432.
7. Lovera D, Araya S, Mesquita MJ, Avalos C, Ledesma S, Arbo A. Prospective applicability study of the new dengue classification system for clinical management in children. Pediatr Infect Dis J. 2014; 33:933-935.
8. Lovera D, Martinez de Cuellar C, Araya S, Amarilla S, Gonzalez N, Aguiar C, et al. Clinical characteristics and risk factors of dengue shock syndrome in children. Pediatr Infect Dis J. 2016; 35:1294-1299.
9. Armien B, Suaya JA, Quiroz E, Sah BK, Bayard V, Marchena L, et al. Clinical characteristics and national economic cost of the 2005 dengue epidemic in Panama. Am J Trop Med Hyg. 2008; 79(3):364-371.
10. Souza LJ, Pessanha LB, Mansur LC, Souza LA, Ribeiro MB, et al. Comparison of clinical and laboratory characteristics between children and adults with dengue. Brazilian J Infect Dis. 2013; 17(1):27-31.
11. Hammond SN, Balmaseda A, Pérez L, Tellez Y, Saborío SI, Mercado JC, et al. Differences in dengue severity in infants, children, and adults in a 3-year hospital-based study in Nicaragua. Am J Trop Med Hyg. 2005; 73(6):1063-70.
12. Nagaram PP, Piduru P, Munagala VK, Matli VV. Clinical and laboratory profile and outcome of dengue cases among children attending a tertiary care hospital of South India. Int J Contemp Pediatr. 2017; 4:1074. DOI: 10.18203/2349-3291.ijcp20171731.
13. Dangi V, Singh P. Clinical epidemiological profile of patients in tertiary care center Hamidia Hospital Bhopal Madhya Pradesh. Int J Sci Res. 2018; 7(3):25-26.
14. Udayanga L, Gunathilaka N, Iqbal MCM, Lakmal K, Amarasinghe US, Abeyewickreme W. Comprehensive evaluation of demographic, socio-economic and other associated risk factors affecting the occurrence of dengue incidence among Colombo and Kandy Districts of Sri Lanka: A cross-sectional study. Parasites and Vectors. 2018; 11:1-18.
15. Bhatt S, Gething PW, Brady OJ, Messina JP, Farlow AW, Moyes CL, et al. The global distribution and burden of dengue. Nature 2013; 496:504-507.
16. Potts JA, Rothman AL. Clinical and laboratory features that distinguish dengue from other febrile illnesses in endemic populations. Trop Med Int Health. 2008; 13(11):1328-1340.
17. Kittigul L, Pitakarnjanakul P, Sujirarat D, Siripanichgon K. The differences of clinical manifestations and laboratory findings in children and adults with dengue virus infection. J Clin Virol. 2007; 39:76-81.
18. Trung DT, Thao le TT, Dung NM, Ngoc TV, Hien TT, Chau NV, et al. Clinical features of dengue in a large Vietnamese cohort: intrinsically lower platelet counts and greater risk for bleeding in adults than children. PLoS Negl Trop Dis. 2012;6(6):e1679. DOI: 10.1371/journal.pntd.0001679
19. Dussart P, Petit L, Labeau B, Bremand L, Leduc A, Moua D, et al. Evaluation of two new commercial tests for the diagnosis of acute dengue virus infection using NS1 antigen detection in human serum. PLoS Negl Trop Dis. 2008 Aug 20;2(8):e280. DOI: 10.1371/journal.pntd.0000280.
20. Shih HI, Hsu HC, Wu CJ, Lin CH, Chang CM, Tu YF, et al. Applications of a rapid and sensitive dengue DUO rapid immunochromatographic test kit as a diagnostic strategy during a dengue type 2 epidemic in an Urban City. PLoS One. 2016; 11:e0158437. DOI: 10.1371/journal.pone.0158437.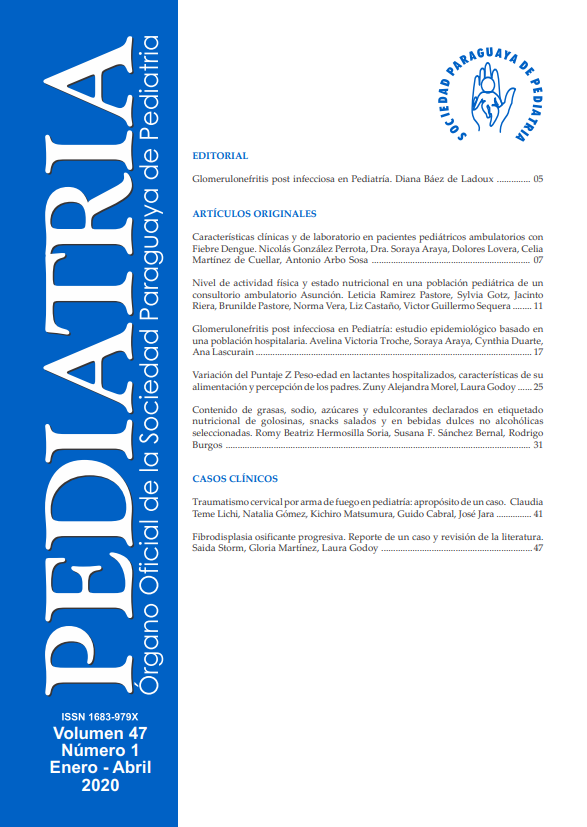 Descargas
Cómo citar
González Perrota, N., Araya, S., Lovera, D., Martínez de Cuellar, C., & Arbo Sosa, A. (2020). Características clínicas y de laboratorio en pacientes pediátricos ambulatorios con Fiebre Dengue. Pediatría (Asunción), 47(1), 05 - 10. https://doi.org/10.31698/ped.47012020002
Sección
Artículos Originales