Glomerulonefritis post infecciosa en Pediatria
Citas
1. Rodriguez Iturbe B, Najafian B, Silva A, Alpers CE. Acute Postinfectious Glomerulonephritis in Children. In: Pediatric Nephrology. Avner ED, Harmon WE, Niaudet P, Yoshikawa N, Emma F, Goldstein SL. (eds). IPNA; 2016. p. 959-981.
2. Simon P, Ramee MP, Autuly V, Laruelle E, Charasse C, Cam G, et al. Epidemiology of primary glomerular diseases in a French region: Variations according to period and age. Kidney Int. 1994; 46(4):1192-1198.
3. Berrios X, Lagomarsino E, Solar E, Sandoval G, Guzman B, Riedel I. Post-streptococcal acute glomerulonephritis in Chile: 20 years of experience. Pediatr Nephrol. 2004; 19(3):306-312.
4. Rodriguez-Iturbe B, Musser JM. The current state of poststreptococcal glomerulonephritis. J Am Soc Nephrol. 2008; 19(10):1855–64.
5. Ilyas M, Tolaymat A. Changing epidemiology of acute post-streptococcal glomerulonephritis in Northeast Florida: a comparative study. Pediatr Nephrol. 2008;
23(7):1101-16.
6. Odile Becquet O, Pasche J, Gatti H, Chenel C, Abély M, Morville Pietrement C. Acute post-streptococcal glomerulonephritis in childrenof French Polynesia: a 3-year
retrospective study. Pediatr Nephrol. 2010; 25(2):275-280.
7. Nagata M. Immune-Mediated Glomerular Injury in Children. In: Pediatric Nephrology. Avner ED, Harmon WE, Niaudet P, Yoshikawa N, Emma F, Goldstein SL. (eds). IPNA; 2016. p. 883-926
8. Jackson SJ, Steer AC, Campbell H. Systematic Review: Estimation of global burden of non-suppurative sequelae of upper respiratory tract infection: rheumatic fever and post-streptococcal glomerulonephritis. Trop Med Int Health. 2011; 16(1):2-11.
9. Lyndon L, Key J. Short-term prognosis of APSGN in children, Medical University of South Carolina, Charleston. 2008; 153(4):560-4.
10. Wong W, Morris MC, Zwi J. Outcome of severe acute post-streptococcalglomerulonephritis in New Zealand children. Pediatr Nephrol. 2009; 24(5):1021-6.
11. Derakhshan A, Hekmat VR. Acute glomerulonephritis in Southern Iran. Iran J Pediatr. 2008; 18(2):143-8.
12. Kılıc BD, Kara MA, Buyukcelik M, Balat A. Pediatric post-streptococcal glomerulonephritis: Clinical and laboratory data. Pediatrics International. 2018; 60(7):645-50.
13. Hoy WE, White AV, Dowling A, Sharma SK Bloomfield H, Tipiloura BT, Swanson CH, et al. Post-streptococcal glomerulonephritis is a strong risk factor for chronic kidney disease in later life. Kidney International. 2012; 81(10):1026-32.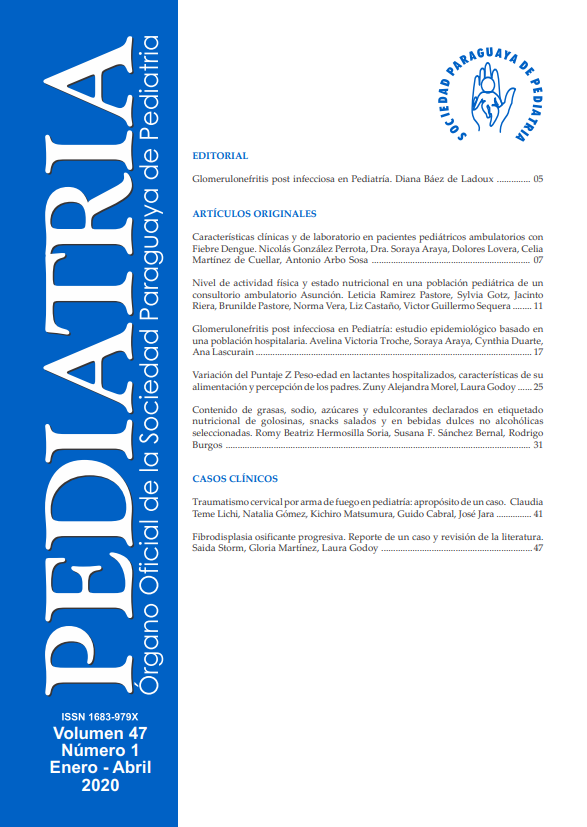 Descargas
Cómo citar
Báez de Ladoux, D. (2020). Glomerulonefritis post infecciosa en Pediatria. Pediatría (Asunción), 47(1), 03 - 04. https://doi.org/10.31698/ped.47012020001