Infecciones respiratorias virales en pacientes hospitalizados en una unidad de cuidados intensivos neonatales
Palabras clave:
Recién nacido, prematuros, enfermedad viral, unidad de cuidados intensivos neonatales
Resumen
Introducción: Las infecciones respiratorias virales constituyen una problemática nacional y las unidades de cuidados intensivos neonatales, no están exentas de estas. Objetivo: Describir la frecuencia y características clínicas de las infecciones respiratorias virales en neonatos internados en un servicio de Neonatología durante el periodo de enero 2017 a octubre 2018. Materiales y Métodos: Estudio observacional, descriptivo, retrospectivo. Fueron analizadas historias clínicas de pacientes hospitalizados en la unidad de cuidados intensivos neonatales, que tuvieron diagnóstico de infecciones respiratorias de origen viral, el método de diagnóstico fue inmunofluorescencia directa, inmunocromatografía y PCR en tiempo real. Se excluyeron pacientes que procedan de otro servicio y hayan iniciado los síntomas antes del ingreso a nuestro centro. Variables: edad gestacional, edad posnatal, peso de nacimiento, síntomas, tipo de virus, prescripción de antibióticos. Los datos fueron analizados con Excel, utilizando estadísticas descriptivas. Resultados: De los 761 pacientes, 65 pacientes presentaron diagnóstico de infección respiratoria viral: frecuencia del 8,5%. EL promedio de edad fue de 17±10 días El método de diagnóstico más frecuente fue inmunofluorescencia 92%, Los síntomas más comunes fueron las secreciones respiratorias (74%) y desaturaciones (64%); Los virus más frecuentes fueron: Sincitial Respiratorio 26%, Influenza B 25%, Influenza A en un 18%. El 66% requirió tratamiento de soporte respiratorio. Un paciente falleció por causas no relacionadas a la infección respiratoria viral. Conclusiones: La frecuencia de infecciones virales fue del 8,5%. Los virus más frecuentes fueron VSR e influenza B. Más de la mitad necesitaron soporte respiratorio. Ningún paciente falleció.  
Citas
1. Pichler K, Assadian O, Berger A. Viral Respiratory Infections in the Neonatal Intensive Care Unit: A review. Front Microbiol. 2018; 9(October). DOI: https://doi.org/10.3389/fmicb.2018.02484
2. Lanaspa M, Annamalay AA, Lesouëf P, Bassat Q. Epidemiology, etiology, x-ray features, importance of co-infections and clinical features of viral pneumonia in developing countries. Expert Rev Anti Infect Ther. 2014; 12(1):31-47. https://doi.org/10.1586/14787210.2014.866517
3. Calvo C, Garcia M, Casas I, Perez Breña P. Infecciones respiratorias virales. En Protocolos diagnóstico-terapéuticos de la AEP: Infectología pediátrica. AEP; 2011. p. 189-204.
4. Lambkin-williams R, Noulin N, Mann A, Catchpole A, Gilbert AS. The human viral challenge model: accelerating the evaluation of respiratory antivirals, vaccines and novel diagnostics. Respir Res. 2018; 19(123):1-15.
5. Sonego M, Pellegrin MC, Becker G, Lazzerini M. Risk factors for mortality from acute lower respiratory infections (ALRI) in children under five years of age in low and middle-income countries: A systematic review and meta-analysis of observational studies. PLoS One. 2015; 10(1):1-17.
6. Luoto R, Jartti T, Ruuskanen O, Waris M, Lehtonen L, Heikkinen T. Review of the clinical significance of respiratory virus infections in newborn infants. Acta Paediatr. 2016; 105(10):1132-9.
7. Townsi N, Laing IA, Hall GL, Simpson SJ. The impact of respiratory viruses on lung health after preterm birth. Eur Clin Respir J. 2018;(5):1-11.
8. Doan Q, Enarson P, Kissoon N, Klassen TP JD. Rapid viral diagnosis for acute febrile respiratory illness in children in the Emergency Department. Cochrane Database Syst Rev. 2014; (9):1-55.
9. Gonzalez-Carrasco E, Calvo C, Garcia-Garcia ML, Beato M, Munoz-Archidona C, Pozo F, et al. Infecciones virales de las vias respiratorias en la Unidad de Cuidados Intensivos Neonatales. An Pediatr. 2015; 82(4):242-6.
10. Ronchi A, Michelow IC, Chapin KC, Bliss JM, Pugni L, Mosca F, et al. Viral respiratory tract infections in the neonatal intensive care unit: The virion-i study. J Pediatr. 2014; 165(4):690-6.
11. Bennett NJ, Tabarani CM, Bartholoma NM, Wang D, Huang D, Riddell SW, et al. Unrecognized viral respiratory tract infections in premature infants during their birth hospitalization: A prospective surveillance study in two neonatal intensive care units. J Pediatr. 2012; 161(5):814-818.
12. Drysdale SB, Wilson T, Alcazar M, Broughton S, Zuckerman M, Smith M, et al. Lung function prior to viral lower respiratory tract infections in prematurely born infants. Thorax. 2011; 66(6):468-73.
13. Drysdale SB, Alcazar M, Wilson T, Smith M, Zuckerman M, Lauinger IL, et al. Respiratory outcome of prematurely born infants following human rhinovirus A and C infections. Eur J Pediatr. 2014; 173(7):913-9.
14. Forsey JT, Elmasry OA, Martin RP. Patent arterial duct. Orphanet J Rare Dis. 2009; 4:1-9.
15. Verboon-Maciolek MA, Krediet TG, Gerards LJ, Fleer A, Van Loon TM. Clinical and epidemiologic characteristics of viral infections in a neonatal intensive care unit during a 12-year period. Pediatr Infect Dis J. 2005; 24(10):901-4.
16. Higdon MM, Le T, O'Brien KL, Murdoch DR, Prosperi C, Baggett HC, et al. Association of C-reactive protein with bacterial and respiratory syncytial virus-associated pneumonia among children aged <5 years in the PERCH study. Clin Infect Dis. 2017; 64(3):378-86.
17. Resch B, Michel-Behnke I. Respiratory syncytial virus infections in infants and children with congenital heart disease. Curr Opin Cardiol. 2013; 28(2):85-91.
18. Pedersen J, Hedegaard ER, Simonsen U, Krüger M, Infanger M, Grimm D. Current and Future Treatments for Persistent Pulmonary Hypertension in the Newborn. Basic Clin Pharmacol Toxicol. 2018; 123(4):392-406.
19. Siegel JD, Rhinehart E, Jackson M CL. 2007 Guideline for isolation precautions: Preventing Transmission of Infectious Agents in Healthcare Settings. Centers Dis Control Prev. 2018; 35(10):1-204.
20. Cerone JB, Santos RP, Tristram D, Lamson DM, Stellrecht KA, St George K, et al. Incidence of respiratory viral infection in infants with respiratory symptoms evaluated for late-onset sepsis. J Perinatol. 2017; 37(8):922-6.
21. Pados BF. Physiology of Stress and Use of Skin-to-Skin Care as a Stress-Reducing Intervention in the NICU. Nurs Womens Health. 2019;23(1):59-70.
22. Mammas IN, Greenough A, Theodoridou M, Kramvis A, Rusan M, Melidou A, et al. Paediatric Virology and its interaction between basic science and clinical practice. Int J Mol Med. 2018; 41(3):1165-76.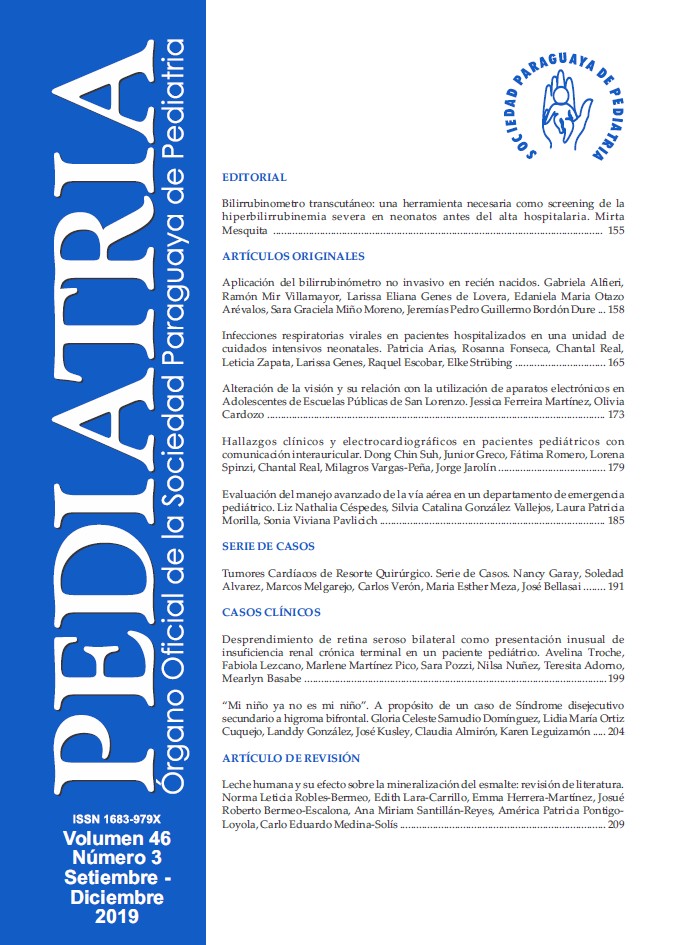 Cómo citar
Arias, P., Fonseca, R., Real, C., Zapata, L., Genes, L., Escobar, R., & Strübing, E. (2019). Infecciones respiratorias virales en pacientes hospitalizados en una unidad de cuidados intensivos neonatales. Pediatría (Asunción), 46(3), 165 - 172. https://doi.org/10.31698/ped.46032019003
Sección
Artículos Originales