Bilirrubinometro transcutáneo: una herramienta necesaria como screening de la hiperbilirrubinemia severa en neonatos antes del alta hospitalaria
Citas
1. Olusanya BO, Osibanjo FB, Slusher TM. Risk factors for severe neonatal hyperbilirubinemia in low and middle-income countries: a systematic review and metanalysis. PLoSOne. 2015; 10(2):e0117229. DOI: www.doi.org/10.1371/journal.pone.0117229
2. Helal NF, Ghany EAGA, Abuelhamd WA, Alradem AYA. Characteristics and outcome of newborn admitted with acute bilirubin encephalopathy to a tertiary neonatal intensive care unit. World J Pediatr. 2019; 15(1):42-48. DOI: www.doi.org/10.1007/s12519-018-0200-4
3. Christensen RD, Agarwal AM, George TI, Bhutani VK, Yaish HM. Acute neonatal bilirubin encephalopathy in the State of Utah 2009-2018.Blood Cells Mol Dis. 2018; 72:10-13. DOI: www.doi.org/10.1016/j.bcmd.2018.05.002
4. American Academy of Pediatrics. Managemente of hyperbilirubinemia in the newborn infant 35 or more weeks of gestation. Pediatrics. 2004; 114(1):297-316.
5. Canadian Paediatric Society. Guidelines for detection, management and prevention of hyperbilirubinemia in term and late preterm newborn infants (35 or more weeks' gestation). Paediatr Child Health. 2007; 12(5):401-418.
6. Bhutani VK, Johnson L, Sivieri EM. Predictive ability of a predischarge hour-specific serum bilirubin for subsequent significant hyperbilirubinemia in healthy term and near-term newborns. Pediatrics. 1999; 103(1):6-14.
7. Sgro M, Kandasamy S, Shah V, Ofner M, Campbell D. Severe Neonatal Hyperbilirubinemia Decreased after the 2007 Canadian Guidelines. J Pediatr. 2016; 171:43-7. doi: 10.1016/j.jpeds.2015.12.067.
8. National Institute for Health and Clinical Excellence (NICE). Neonatal jaundice clinical guideline [Internet]. NICE; 2010. [Consultado 20 oct 2019] Disponible en: https://www.nice.org.uk/guidance/cg98/resources/jaundice-in-newborn-babies-under-28-days-975756073669
9. Maisels MJ, Kring E. Transcutaneous bilirubinometry decreases the need for serum bilirubin measurements and saves money. Pediatrics. 1997; 99(4):599-601.
10. Buckmaster A. 'Halving the heel pricks': evaluation of a neonatal jaundice protocol incorporating the use of a transcutaneous bilirubinometer. J Paediatr Child Health. 2010; 46(10):595-599.
11. Yamana K, Morioka I, Kurokawa D, Fukushima S, Nishida K, Ohyama S, et al. Evaluation of BiliCare™ transcutaneous bilirubin device in Japanese newborns. Pediatr Int. 2017; 59(10):1058-1063. DOI: www.doi.org/10.1111/ped.13364
12. Bhutani VK, Maisels MJ, Schutzman DL, Castillo Cuadrado ME, Aby JL, Bogen DL,, et al. Identification of risk for neonatal haemolysis. Acta Paediatr. 2018; 107(8):1350-1356. DOI: www.doi.org/10.1111/apa.14316
13. Chokemungmeepisarn P, Tantiprabha W, Kosarat S. Accuracy of the Bilicare™ transcutaneous bilirubinometer as the predischarge screening tool for significant hyperbilirubinemia in healthy term and late preterm neonates. J Matern Fetal Neonatal Med. 2020; 33(1):57-61. DOI: www.doi.org/10.1080/14767058.2018.1484098
14. Cucuy M, Juster-Reicher A, Flidel O, Shinwell E. Correlation between transcutaneous and serum bilirubin in preterm infants before, during, and after phototherapy. J Matern Fetal Neonatal Med. 2018; 31(10):1323-1326. DOI: www.doi.org/10.1080/14767058.2017.1315662
15. Jnah A, Newberry DM, Eisenbeisz E. Comparison of Transcutaneous and Serum Bilirubin Measurements in Neonates 30 to 34 Weeks' Gestation Before, During, and After Phototherapy. Adv Neonatal Care. 2018; 18(2):144-153. DOI: www.doi.org/10.1097/ANC.0000000000000469
16. Maisels MJ, Coffey MP, Kring E. Transcutaneous bilirubin levels in newborns <35 weeks' gestation. J Perinatol. 2015; 35(9):739-44. DOI: www.doi.org/ 10.1038/jp.2015.34
17. Benitez Leite S, Mesquita M, Macchi ML. Manejo de la hiperbilirrubinemia neonatal por pediatras que realizan atención inmediata del recién nacido. Pediatr (Asuncion). 2005; 32:23-33.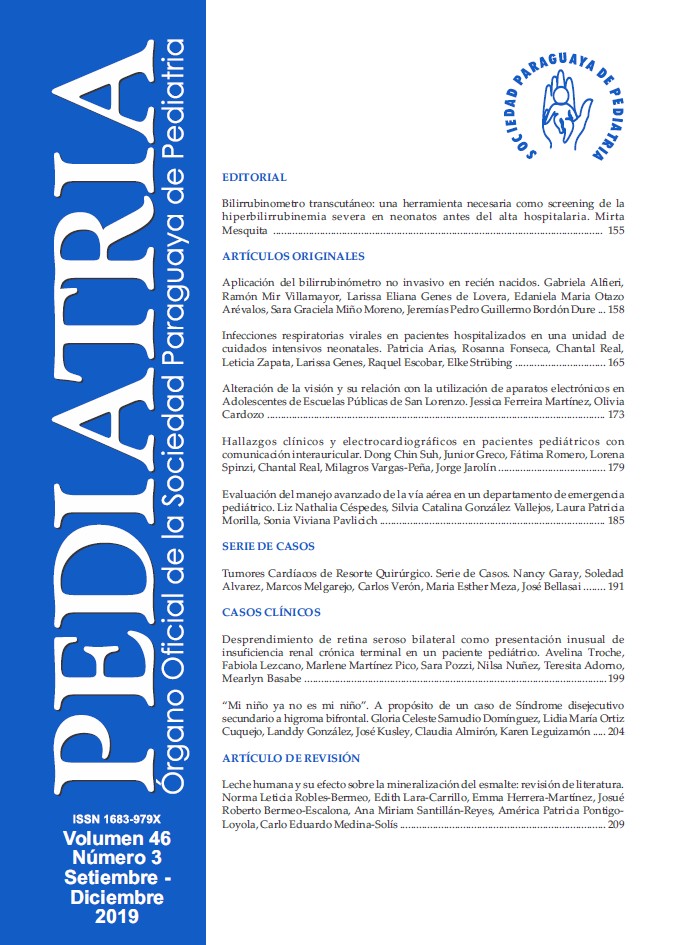 Descargas
Cómo citar
Mesquita, M. (2019). Bilirrubinometro transcutáneo: una herramienta necesaria como screening de la hiperbilirrubinemia severa en neonatos antes del alta hospitalaria. Pediatría (Asunción), 46(3), 155 - 157. https://doi.org/10.31698/ped.46032019001