Raquitismo carencial: a propósito de un caso.
Luís Alberto Chamorro Noceda

Servicio de Pediatría, Hospital Central, Instituto de Previsión Social. Asunción, Paraguay.

Marta Duarte

Servicio de Pediatría, Hospital Central, Instituto de Previsión Social. Asunción, Paraguay.
Palabras clave:
Raquitismo, deficiencia de vitamina D.
Resumen
Resumen: El raquitismo es una enfermedad que se caracteriza por una deficiencia en la osificación de los huesos, afectando a las metáfisis y por tanto a los niños en su etapa de crecimiento, con una expresión clínica común aun teniendo varias etiologías, entre ellas la carencia de vitamina D3, siendo ésta causa poco frecuente en nuestro país debido a la acción de los rayos solares UVB por ser un país subtropical. El motivo de la presentación es el caso de un niño de 2 años 3 meses portador de una hipoplasia renal congénita bilateral, que era sometido a diálisis peritoneal ambulatoria por ERC desde los 3 meses de edad. Ingresó al hospital para ser tratado por disfunción de la diálisis peritoneal causada por obstrucción distal del catéter, en el examen al ingreso se constataron hipocrecimiento y retraso del desarrollo motor importante, así como signos clínicos, radiográficos y de laboratorio de raquitismo activo, presentando en la sangre niveles de vitamina D2 muy bajos lo que reveló ser raquitismo carencial,  iniciándose tratamiento con Calcitriol a 3.000 UI/día, teniendo una buena respuesta a la medicación, mejorando las lesiones óseas y del desarrollo motor comenzando a ponerse de pie y dando pasos con apoyo.
Correspondencia: Luís Alberto Chamorro Noceda Correo: cml.chmrr@gmail.com
Conflicto de interés: Los autores declaran no poseer conflicto de interés
Recibido: 04/03/2018 Aceptado: 20/06/2018
Citas
1. Iglesias Gamarra A, Restrepo Suárez JF. Del raquitismo a la vitamina D. En: Iglesias Gamarra A. Historia de la vitamina D. Barranquilla: Universidad Simón Bolívar; 2008 p. 1-88.
2. Baeza Goñi A. Raquitismo: su frecuencia en Santiago de Chile. Rev Chil Pediatr 2013; 84(6):685-691.
3. Creo AL, Tacher TD, Pettifor J, Strand M, Fischer P. Nutritional rickets around the world: an update. Pediatr Inter Child Healt 2017; 37(2):84-98.
4. Rajakumar K. Vitamin D, cold-liver oil, sunlight and rickets: a historical perspective. Pediatrics 2003; 112: 32-35.
5. Nield L, Parashant M, Aparna J, Kamat D. Rickets: Not a Disease of the Past. Am Fam Phys. 2006; 74 (4):519-626.
6. Pettifor R. Nutritional rickets: deficiency of vitamin D, calcium o both? Am J Clin Nutr 2004; 80 (suppl): 1725S-9S.
7. DeLucia M, Mitnick ME, Carpenter TO. Nutritional Rickets with Normal circulating 25-Hydroxyvitamin D: A Call for reexamining the rol of Dietary Calcium Intake in North American Infants. J Clin Endocrinol Metab. 2003; 88 (8): 3539-3545.
8. Onyiruka AN, Abiodium OU, Onyiriuka FU. Nutritional rickets in childhood: retrospective assessment of clinical data if forty five cases seen en a Nigerian tertiary healthcare institution. Curr Pediatr Res 2012; 16 (2): 129-133.
9. Aggarwal V, Seth A, Aneja S, Sharma B, Sonkar P, Singh S, et al. Role of Calcium Deficiency in Development of Nutritional Rickets in Indian Children: a case control study. J Clin Endocr Metab 2012; 97 (10):3461-6.
10. Holicks MF. Resurrection of vitamin D deficiency and rickets. Jour Clinic Invest. 2006; 116 (8): 2062-2071.
11. Uday S, Högler W .Nutricional Rickets and Osteomalacia in the Twenty-first Century: Revised Concepts, Public Health and Prevention Strategies. Curr Osteopor Rep 2017; 15 (4):293-302.
12. Bueno A, Czepielewski M. A importância do consumo de calcio e vitamina D no crescimento. J Pediatr. 2008; 84(85): 386-394.
13. López-González D, Méndez-Sánchez L, Guagnelli MA, Clark P. Deficiencia de vitamina D en la edad pediátrica. Una oportunidad de prevención. Bol Med Hosp Infant Mex. 2015; 72(4): 225-234.
14. Zhu K, Oddy WH, Holt P, Ping-Delfos WC, Mountain J, Lye S, et al. Tracking of Vitamin Status From Childhood to Early Adulthood and its Association With Peak Bone Mass. Am J Clin Nutr 2017;106 (1):276-83.
15. Pérez-López F, Pérez G, López Baena M. "Vitamin D and adolescent healt" Adolesc Healt Med and Terap 2010:1 1-8.
16. Hoogenboezen T. Vitamin D Metabolism in Breast-Fed Infant and their Mothers. Pediatr Res 1989; 25 (6): 623-628.
17. Karabel D, Karabel M, Yilmaz AE, Tas T, Karayel M. Una causa infrecuente de convulsión hipocalcémica: raquitismo congénito. Caso clínico. Arch Argent Pediatr 2012; 110(6): e123-e125.
18. Innes M, Seshia M, Prasad Ch, Al Saif S, Friesen FR, Albert E, Chudley AE. Congenital rickets caused by maternal vitamin D deficiency. Paediatr Child Healt 2002; Sep 7(7): 455-458.
19. Mechica JB. Raquitismo e Osteomalacia. Scienc Med, Porto alegre 2005; 15 (2): 112-120.
20. Dawodu J. Hipoavitaminosis D and Vitamin D deficiency in exclusively breast-feeding infants and their mothers in summer: A justification for Vitamin D supplementation of breast-feeding infant. J Pediatr 2003; 142 (2):169-73.
21. Öhlund I. Increased Vitamin D Intake Differenciated According to Skin Color Is Needed to Meet Requirements in Young Swedish Children During Winter: A Double-Blind Radomized Clinical Trial. Am J Clin Nutr 2017; 106(1): 105-112.
22. Oliveri B, Ladizesky M, Mautalen C. Raquitismo nutricional en Argentina. Rev Argent endocrinol metab 1989; 26 (1):22.
23. Oliveri B, cassinelli H, Ayala M, Mautalen C. Prevención del deficit de vitamina D en Ushuaia. Argentina. Arch Argent Pediatr 1995; 96(2): 66-70.
24. Wang S, Shen G. Nutrients Status of Vitamin D among Chinese Children. Nutrients 2017; 9,319.
25. Gordon CM, Feldman HA, Sinclair L, Williams AL, Kleinman PK, Perez-Rossello J. Prevalence of Vitamin D Deficiency Among Healty Infants and Toddlers. Arch Pediatr Adoles Med 2008; 162 (6): 505-512.
AS Kizirian
2
, RI Tannous
2
, MM Nabulsi
3
, MK Choucair
1
, ME Deeb
26. Salamoun MM, Kizirian AS, Tannous RI, Nabulsi MM, Choucair MK, Deeb ME, et al. Low calcium and vitamin D intake in healthy children and adolescents and their correlates. Europ Jour Clinic Nutric. 2005; 59, 177-184.
27. Thorisdottir B, Gunnarsdottir I, Steingrimsdottir L, Palsson GI, Birgisdottir BE, Thorsdottir I. Vitamine D Intake and Status in 6-Year-Old Icelandic Children Followed up from Infancy. Nutrients 2016; 8, 75.
28. Kalwarf HJ, Denburg MR, Strife CF, Zemel BS, Foerster D, Wetzsteon RJ, et al. Vitamin D deficiency is common in children and adolescent with chronic kidney disease. Kidney Int 2012; 81(7):690-697.
29. Kumar J, McDermott K, Abraham AG, Friedman LA, Johnson VL, Kaskel FJ, et al. Prevalence and correlates of 25-hydroxyvitamin D in Chronic Kidney Disease in Children (CKD) Cohort. Pediatr Nephol 2016; 31(1):121-9.
30. Bikle D. Nonclassic actions of Vitamin D. J Clin Endocrinol Metab 2009; 94:26-34.
31. Antola J, Piccoli C, Salerno M, Henrique IT. Raquitismo carencial-Relato de caso. Scien Med. PUCRS 2005; 15 (2):112-115.
32. Rocha A. Diagnóstico diferencial del raquitismo hipocalcémico. Caso clínico. Rev Chil Pediatr 2013; 84 (6): 672-680.
33. Walter C, Muñoz D, Martin del Barrio S, Corrales C, Pou Fernández J. Hipocalcemia sintomática secundaria a raquitismo carencial. Presentación de dos casos clínicos. An Pediatr (Barc) 2010; 72 (5):343-346.
34. Muher J, Lulsegued S, Mason KE, Simoes EAF. Case-control study of the role of nutritional rickets in the risk of developing pneumonia in Ethiopian children. The Lancet 1997; 349:1801-1804.
35. Najada AS, Habasheneh MS, Kader M. The frecuency of nutritional rickets among hospitalized infants and its relation to respiratory disease. J. Trop Pediatr 2004 Dec; 50 (6); 364-368.
36. ᶊiᶊmanlar T, Aslan AT, Gülbahar O, Özkan S. The effect of vitamin D on lower respiratory tract infections in children. Turk Pediatr Ars 2016; 51:94-99.
37. Moustaki M, Loukou I, Prifstis KN, Douros K. Role of vitamin D in cystic fibrosis and non-cystic fibrosis. World J Clin Pediatr 2017 (8); 6:132-143.
38. Miller W. Genetic disorder of Vitamin D biosynthesis and degradation. Jour of Stero Biochem & Molec Biol 2017;165: 101-108.
39. M. Halty, M. Caggiani. Raquitismo vitamina D dependiente tipo I. Arch Pediatr Urug 2006; 77(2): 159.166.
40. Velázquez-Jones L, Medeiros M, Valverde-Rosas S, Jimenez-Triana C, Moral-Espinoza T, et al. Seguimiento a largo plazo de un paciente con raquitismo dependiente de la vitamina D tipo l. Bol Hosp Infant Méx 2015; 72 (3): 190-194.
41. Negri AL, Negrotti T, Alonso G, Pascualini T. Distintas formas de presentación clínica de un raquitismo hipofosfatémico autosómico dominante por mutación del factor de crecimiento fibroblástico 23 en una familia. Medicina 2004: 64(2):103-106
42. Velázquez-Jones L, Medeiros Domingo M. Raquitismos hipofosfatémicos hereditarios. Bol Med Hosp Infant Méx 2013; 70(3):421-431.
43. Assiri A, Saeed A, Al Sarkhy A, El Mouzan MI, El Matary W. Celiac disease presenting as rickets in Saudi children. Ann Saudi Med 2013; 2: 49-51.
44. Welch TR, Bergstrom WAT, Trang RC. Vitamin D-deficient rickets. The reemergence of the once conquered disease. J. Pediatr 2000; 137. 143-145.
45. Allgrove J. Is nutritional rickets returming?. Arch Dis Child 2004; 89.699-711.
46. Ward ML, Gaboury I, Ladhani M, Zlotkin S. Vitamin D-Deficiency rickets in Canada. CMAJ 2007; 177 (2): 161-166.
47. Itoh M, Tomio J, Toyokawa S, Tamura M, Isojima T, Kitanaka S. et al. Vitamin D-Deficient Rickets in Japan" Glob Pediatr Health 2017; 4: 1-4.
48. Weisbeg P, Scanlon KLi R, Cosgwell. Nutritional rickets among children in the United States: review of cases reported between 1986 and 2003. Am J Clin Nutr 2006; 80 (suppl): 1697S-1705S.
49. Singleton R, Leschler R, Gessner BD, Benson M, Bulkow L, Rosenfeld J, et al. Rickets and Vitamin D Deficiency in Alaska Native Children. J Pediatr Endocrinol Met 2015; 28(0):815-823.
50. Munns CF, Simm PJ, Rodda CP, Garnett SP, Zacharin MR, Ward LM, et al. Incidence of vitamin D deficiency rickets among Australian children: an Australian Paediatric Surveillance Unit study. Med J Austr. 2012; 196 (7): 466-468.
51. Bener A, Hoffmann GF. Nutritional Rickets among Children in a Sun Rich Country. Intern J Pediatr Endoc 2010; 2010:14502.
52. Wagner C, Greer F. The section on breastfeeding and Committee on Nutrition: Prevention of Rickets and Vitamin D Deficiency in Infants, Children and Adolescents. Pediatrics 2008; 122 (5): 1142-52.
53. Oberheman S, Meekins ME, Fischer PR, Lee BR, Singh RJ, Cha SS, et al. Maternal vitamin D supplementation to improve the vitamin D status of breast-fed infants: a randomized controlled trial. Mayo Clin Proc 2013; 88 (12): 1378-87.
54. Munns G, Shaw N, Kiely M, Specker BL, Thacher TD, Ozono K, et al. "Global Consensuns Recommendations on Prevention and Management of Nutritional Rickets". Horm Res Pediatr. 2016; 85: 83-106.
55. Baroncelli GI, Bertelloni S, Ceccarelli C, Amato V, Saggese G. Bone turnover in children with Vitamin D deficiency rickets before and during treatment. Acta Pedriatr. 2000; 89(5):513-8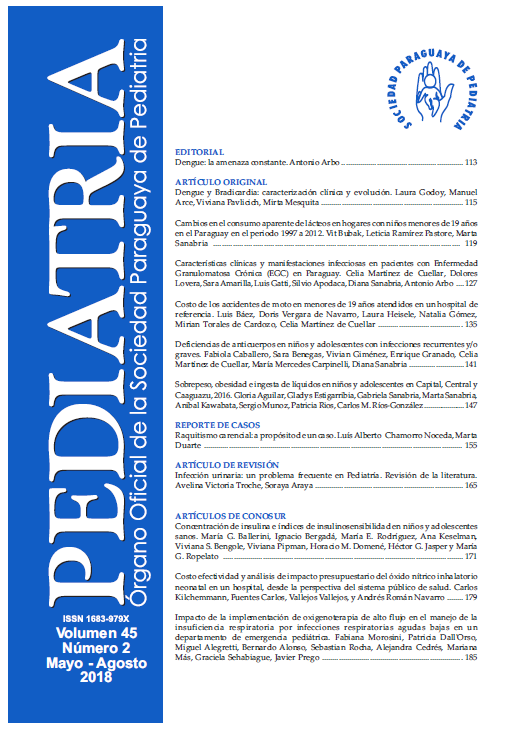 Esta obra está bajo licencia internacional
Creative Commons Reconocimiento-NoComercial-SinObrasDerivadas 4.0
.
Todo el contenido de este sitio scielo.iics.una.py, excepto dónde está identificado, está bajo una Licencia de Atribución Creative Commons.