Síndrome metabólico
Citas
1. Eyzaguirre F, Silva R, Román R, Palacio A, Cosentino M, Vega V, et-al. Prevalencia de síndrome metabólico en niños y adolescentes que consultan por obesidad. Rev Med Chile. 2011;139:732-38.

2. Shaibi GQ, Goran MI. Examining metabolic syndrome definitions in overweight Hispanic youth: a focus on Insulin resistance. J Pedtr. 2008;152(2):171-76.

3. Kurtoglu S, Akin L, Kendirci M. The absence of insulin resistance in metabolic syndrome definition leads to under diagnosing of metabolic risk in obese patients. Eur J Pediatr. 2012;171(9):1331-37.

4. Raitakari OT, Juonala M, Viikari JS. Obesity in childhood and vascular changes in adulthood: insights intho the cardiovascular risk in young finns study. Int J Obes (Lond). 2005; Suppl 2:S101-S104.

5. Magnussen CG, Venn A, Thomson R, Juonala M. The association of Pediatric Low-and high-density Lipoprotein Cholesterol dyslipidemia classifications and Change in dyslipidemia status with carotid intima-media thickness in adulthood evidence from the cardiovascular risk in young finns study, the Bogalusa Heart Study, and the CDAH (Childhood Determinants of Adult Health) study. J Am Cardiol. 2009;53(10):860-9.

6. Brenner DR, Arora P, Garcia-Bailo B. Plasma vitamin D Levels and risk of Metabolic Syndrome in Canadians. Clin Invest Med. 2011;34(6):E377.

7. Cook S, Kaney RE. Dyslipidemia and Pediatric obesity. Pediatr Clin North Am. 2011;58(6):1363-73.

8. Boney CH, Verma A, Tucker R, Vohr BR. Metabolic Syndrome in Childhood: association with Birth Weight, Maternal Obesity and Gestacional Diabetes Mellitus. Pediatrics. 2005;115:e290-96.

9. Tsoulli SG, Liberpoulos EN, Mikhailidis DP. Elevated serum uric acid levels in metabolic síndrome: an active component or an innocent bystander? Metabolism. 2006;55(10):1293-301.

10. D`Adamo E, Santoro N, Caprio S. Metabolyc Syndrome in pediatrics: old concepts revised, new concepts discussed. Endocrinol Metab Clin North Am. 2009;38(3):549-63.

11. Raitakari OT, Juonala M, Kohonen M, Taittoren L, Laitinen T, Maki-Torkko N, et-al. Cardiovascular risk factors in childhood and carotid artery intima-media thickness in adulthood. JAMA. 2003;290(17):2277-83.

12. Efstathiou SP, Skeva II, Zorbala E, Georgiou E, Mountokalakis D. Metabolic Syndrome in adolescence. Circulation. 2012;125:902-10.

13. Moreno LA, Valtueña J, Pérez-López F, González-Cross M. Health effects related to low vitamin D concentrations: beyond bone metabolism. Ann Nutr Metab. 2011;59(1):22-27.

14. Sohn YB, Kim SJ, Park SW. The Metabolic Syndrome and body composition in childhood cancer survivors. Korean J Pediatr. 2011;54(6):253-59.

15. Duré K, Bogado S, Sanabria M, Zaracho J. Prevalencia de sobrepeso y obesidad en escolares y adolescentes de escuelas urbano marginales de Asunción. Pediatr (Asunción). 2001;28(Supl.):49.

16. Riveros-Sasaki K, Alderete-Peralta V, Sánchez-Bernal S. Frecuencia de elementos del Síndrome Metabólico en adolescentes de un colegio público. Pediatr (Asunción). 2012;39(1):13-19.

17. López P, Araujo C, Leguizamón C, Ayala A, Scott C, Maldonado D. Prevalencia de Síndrome Metabólico en Adolescentes con Sobrepeso u Obesidad. Pediatr (Asunción). 2012;39(1):21-25.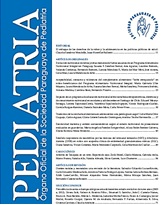 Cómo citar
González de Szwako, R. (2017). Síndrome metabólico. Pediatría (Asunción), 39(1), 9-11. Recuperado a partir de https://revistaspp.org/index.php/pediatria/article/view/25